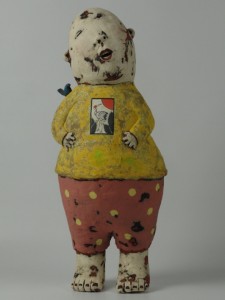 This piece is called "Birds of a Feather" and it's a tribute to Grandma Ching, who I remember warmly and with great fondness.
When I first came to Hawaii in 1973 for college, I felt very much like an outsider. Everything seemed foreign to me, coming from a relatively small town in Washington state. It was my first "adult" adventure, leaving home and away from anyone that I knew, and I was REALLY far away and scared. I couldn't just jump in a car and drive to someplace familiar. No friends, no family and not much ability to comfort myself. I didn't miss the small town that I had left but all of the newness and challenges seemed overwhelming to me. I still wish I were the kind of person that saw change as wonderful and life as a great adventure, but my default mechanism is fear! When I am most fearful, I feel like the Ugly Duckling when it's in the pond in winter and paddling ferociously to keep from being frozen. All that effort to stay alive but it isn't really going anywhere – it's mostly going around in circles that are getting smaller and smaller. When I am in that place of crazy fear, I feel like I have nowhere to go and no place to hide and I want to get away from the discomfort as fast as I can.
I met Grandma Ching during the very first year that I was in Hawaii. She was the grandmother of my boyfriend at the time, and she was so kind to me during those early, hard years. When I felt that other people were laughing at me for my differentness and my naivete, she was encouraging and positive. She would frequently say to me " You're a good girl" and I would soak it up, so starved for the warmth of that mothering and grandmothering affection. She taught me about local culture in Hawaii just by being who she was. She was feisty, strong and had her own voice – characteristics that I greatly admired. I loved her stories about when she was young and what it was like growing up for her, about her family and her children. She was a great storyteller! She loved playing cards and talking, and she taught us how to play Mahjongg and Hanafuda. We spent many Friday nights at her house, being nourished by her stories, her food, her laughter and the fun we had playing these games. It was a brief respite and a place of refuge for me.
This piece is in memory of Grandma Ching and all those nights spent at her kitchen table in Kalihi playing Hanafuda. Thank you for the gift of your love and acceptance at a time in my life when I needed it! It's also a tribute to all Grandmas out there that give warmth, love and nourishment to those vulnerable souls that hunger for it, whether it's your own grandchildren, your "hanai" grandchildren like me or anyone that needs a grandmothering spirit.
The Red-crowned Cranes are sacred birds in both China and Japan. They are called the "bird of happiness" because their mating dance makes them appear to be jumping for joy as they leap into the air and float back down on outstretched wings. The Crane hanafuda card on the figure's chest and the bluebird that sits on his shoulder speaks of happiness. The figure feels innocent, peaceful and joyful in his simplicity. His little heart is leaping in joy as he basks in the love of self-acceptance and nourishment and play.